What does Hitler, Gun control and the Bible have in common...?
ALL THOSE IN FAVOR OF GUN CONTROL RAISE YOUR RIGHT HAND...
do you trust this guy? I sure DO NOT Trust him...

Hitler was credited with killing more Christians than Jews


Why is this fact of history a secret?

Hitler killed religious Jews and Christians that refused to go along with the program...

Skinheads need Jesus, not Hitler...

http://www.nazis.testimony.co.uk/


Hitler was Time Magazine's man of the year in 1938...
I guess Time was or is wrong...

Hitler was into all kind of occult practices like theosophy.

Theosophy believes in god...not Jesus as God mind you...but they believe in God.

Jam 2:19 Thou believest that there is one God; thou doest well: the devils also believe, and tremble.

Theosophy's god is satan...

do you have a nazi approved bible...?

go to the christian favorite links page and hit the NIV link and find out...YOU MAY BE SHOCKED....TO LEARN THE TRUTH...

All those in favor of Gun Control raise your right hand...


This is Joe Stalin, dictator of the USSR during World War II. He had 65 million Christian's murdered before Hitler attacked Russia...

This was a real holocaust and yet no mention in the history books about this...why?

I guess Christian blood is just not that
important...

The communists admit to 65 million being killed by Joe Stalin...who was time magazines man of the year for 1939.
I guess Time did not care about Christian's being butchered.

These Christian's would have sworn they were in the great tribulation and they awaited the Rapture...that did not come for them...

Joe Stalin...Time magazines man of the year 1939

So Stalin killed all the Christian farmers and then God sent a drought...so the Russians had a series of crop failures.

that is what usually happens when you kill off all your farmers...

So what did the good ole USA do for the evil ruthless dictator that killed off the Christians?

We did what every good capitalist country would do..

WE SOLD THEM WHEAT TO FEED THE MURDERER'S...

Let us see what the Bible says on this.

2Ch 19:2 And Jehu the son of Hanani the seer went out to meet him, and said to king Jehoshaphat, Shouldest thou help the ungodly, and love them that hate the LORD? therefore [is] wrath upon thee from before the LORD.

Hmmmm....
1938 Time Magazine's Man of the year...Adolf Hitler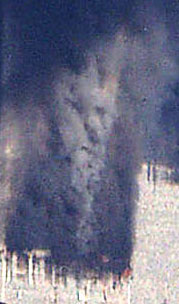 Here are 2 very good reasons to be against gun control.

Hitler and Stalin are two very good reasons...

The very first thing these animals did was to collect the guns...so the citizens could not fight back.


Sept 11 or is it 9-11 IS THIS THE FACE OF SATAN?


Eph 6:12 For we wrestle not against flesh and blood, but against principalities, against powers, against the rulers of the darkness of this world, against spiritual wickedness in high [places].


I'm on a highway to Hell....
I hate Rock music like that...that is a line from the group AC/DC singing Highway to Hell...

This sounds like the road the USA is on.

We are ordaining witches and Church of Satan members as clergy and Chaplains in the military and in Jails...Satanic priests in prisons as clergy...hmmm that fits.

Satanic priests in prison...do they tell the prisoners to just be yourselves...?

I wonder if satanists knock on doors for converts and ask the people if they would like to be damned for all eternity? Hmmmm.....

Abortions in the USA are over 45 million and counting...kill a 9 month old child being born while you cut open its skull and suck the brains out and you call it partial birth abortion.

kill a dog and you go to jail for cruelty to animals

and WE SING god BLESS AMERICA....

sounds like we are cursed...for SIN!

Where are the preachers...? asking for tithes...?

The Church is silent and tells you that we will be raptured out of this mess they helped create...

IN YOUR DREAMS...
LET US LOOK AT THE COMMIE RULES FOR A REVOLUTION AND DO THEY FIT?
COMMUNIST
"RULES FOR A REVOLUTION"
1. Corrupt the young; get them away from religion. Get them
interested in sex. Make them superficial; destroy their ruggedness.
2. Get control of all means of publicity, (TV, Radio, and Newspapers) thereby:
3. Get people's minds off their government by focusing their
attention on athletics, sexy books, plays and other trivialities.
4. Divide the people into hostile groups by constantly harping
on controversial matters of no importance.
( Politics, Racism, Etc)
5. Destroy the people's faith in their natural leaders by
holding the latter up to contempt, ridicule and disgrace.
6. Always preach true democracy, but seize power as fast and as ruthlessly as possible.
7. By encouraging government extravagance, destroy it's credit, produce years of inflation with rising prices and general discontent. (Build baseball stadiums, Foreign Aid)
8. Incite unnecessary strikes in vital industries, encourage civil disorders and foster a lenient and soft attitude on the part of the government toward such disorders. (Hippies Riots)
9. Cause breakdown of the old moral values - honestly, sobriety, self-restraint, faith in the pledged word, ruggedness.
10. Cause the registration of all firearms on some pretext, with a view to confiscate them and leaving the populace helpless." (Crime Control)
My question to you...
Do they appear to be alive and well in the good 'ol USSof A??
LOOK AT THE ABOVE THAT SAYS CONFISCATION OF FIREARMS...
LET US SEE WHAT THE BIBLE AND JESUS SAYS ON THIS MATTER...
Remember The Bible says THOU SHALT NOT KILL...
Luk 22:36 Then said he (JESUS) unto them, But now, he that hath a purse, let him take [it], and likewise [his] scrip: and he that hath no sword, let him sell his garment, and buy one.
Jesus said to buy a sword...not to murder but to protect yourself...and your family.
So Jesus says TO BUY A SWORD and the Stalins and Hitlers say turn in your sword....
WHO DO YOU BELIEVE? Jesus or Hitler...?
FIREARMS REFRESHER COURSE
a. An armed man is a citizen. An unarmed man is a subject.
b. A gun in the hand is better than a cop on the phone.
c. Colt: The original point and click interface.
d. Gun control is not about guns; it's about control.
e. If guns are outlawed, can we use swords?
f. If guns cause crime, then pencils cause misspelled words.
g. Free men do not ask permission to bear arms.
h. If you do not know your rights you do not have any.
i. Those who trade liberty for security have neither.
j. The United States Constitution (c) 1791. All Rights reserved.
k. What part of shall not be infringed do you not understand?
l. The Second Amendment is in place in case they ignore the others.
m. 64,999,987 firearms owners killed no one yesterday.
n. Guns only have two enemies: rust and liberals.
o. Know guns, know peace and safety. No guns, no peace nor safety.
p. You don't shoot to kill; you shoot to stay alive.
q. 911 - government sponsored Dial-a-Prayer.
r. Assault is a behavior, not a device.
s. Criminals love gun control - it makes their jobs safer.
t. If guns cause crime, then matches cause arson.
u. Only a government that is afraid of its citizens tries to control them.
v. You only have the rights you are willing to fight for.
w. Enforce the gun control laws we have, don't make more.
x. When you remove the people's right to bear arms, you create slaves.
y. The American Revolution would never have happened with gun control.
z. ...a government of the people, by the people, for the people...
You are visitor #